Our production facility is equipped with high speed state of the art technology to meet the demands of VIU. Our professional print production team would be more than happy to assist you with paper selection, file creation and finishing options.
Our production systems produce high quality, at high speeds, printing directly from your computer files or paper originals. Our machines offers versatile finishing options, such as single and dual stapling and hole punching.
Our services include:
High speed digital black and white digital printing
High speed digital colour printing
Offset 

black and white and colour printing

Wide format full-colour printing
Full range of binding and finishing services
Scanning
Portfolios, Reports and Projects
Print Services offers both black and white and color printing for art and design portfolios and projects, as well as bound reports for special classes.

Custom Courseware
Print Services provides printing for the University's Custom Courseware, required reading materials and other VIU Campus Store  materials. 
We coordinate printing and finishing for course materials, handouts, course outlines, student guides and other educational materials to enhance your learner and teaching experience.
Your prepared course materials can be archived for future printing/reordering.
If you have any inquiries or want to use Custom Courseware in your class, contact the Special Order/Courseware Buyer:
Janice Speed
Phone: (250) 740-6205, Local 6205
Email: Janice.Speed@viu.ca
Campus Store, Building 305, Room 220. Mail drop 305-1
Flat and Folded Cards
We have a variety of paper stocks to choose from for your cards. Envelopes can be ordered in a variety of sizes to fit, and we can also print your return address on them.
Business cards
Holiday greeting cards

Invitations

Thank you cards

Brochures
Calendars
Bring in 13 images (one for each month and a cover image) and have us make you your own custom calendar. 
Saddle Stitch Calendar
Coil Calendar
Top Coil Calendar (11×17)
Retractable Banners
Eye-catching, economical and easy to set up, our portable roll-up banner stands take the fuss out of the preparation and delivery of your message. With an engineered retractable cassette as its base, retractables set-up instantly by lifting and securing the banner in place. After the use, the banner may be stored and protected in the cassette.
Looking to change your banner? Our graphics can be replaced as often as you need – making our systems reuseable for many years to come.
Stretched Canvas
Print high quality photos and artwork on framed canvas for a high-end look. Our experienced team will ensure your prints are produced professionally for the best results. Feature canvas prints in your next wall art project at home or in the office. Embrace your inner art gallery curator and order your canvas print today!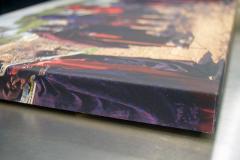 Scanning
Print Services can scan documents and artwork for print or digital use and offers large and small format scanning – up to 36″ wide.
*When printing and scanning portions of books or other printed material, please be aware that Print Services is a Fair Use print shop and will only scan one chapter or ten percent of the content, whichever amounts to fewer pages. For more guidelines on printing and scanning, please visit our copyright and compliance section.