Welcome to Intramural Sports!
The Intramural program at Mariners Athletics and Recreation has a wide range of recreational leagues, tournaments and special events. We pride ourselves in providing safe, fun, social and even at times competitive programs for all students, staff and community. League nights feature typical sports like Volleyball, Basketball, Soccer and Road Hockey. Our tournaments range from Dodgeball, Slo-Pitch, Beach Volleyball, Road Hockey, Outdoor Soccer and even Poker at times.
Intramural Leagues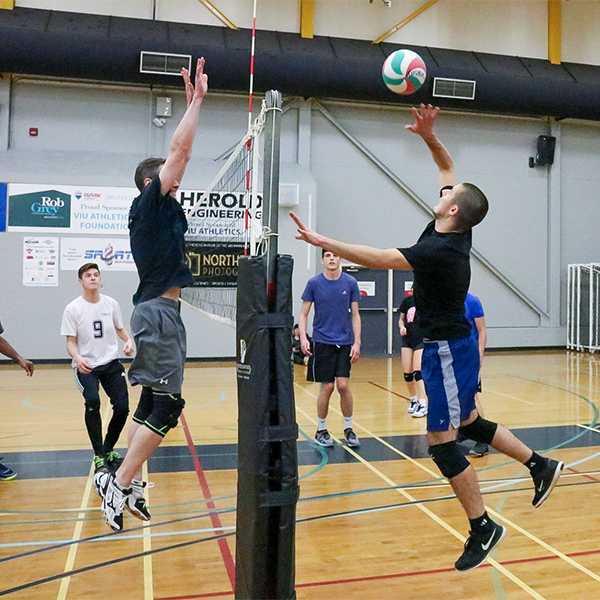 Volleyball
This league is one of our most popular. We use a ladder league format so each week your team will move up or down according to how you did the previous week. Teams are Co-Ed and 2 of the opposite sex need to be on the court at all times. This league runs for at least 10 weeks. This league fills up fast so do not hesitate.
Sign Up / Feb. 6 Schedule / Standings
5 on 5 Basketball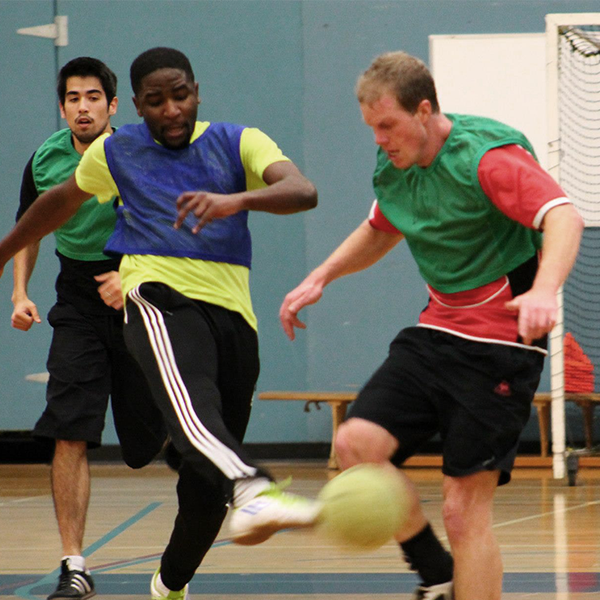 Indoor Soccer
This league only has space for 8 teams so register quickly. Teams are 5 on 5 and teams do not have to be Co-Ed. We use a ladder league format so each week your team will move up or down according to how you did the previous week.
Sign Up / Jan. 31 Schedule / Standings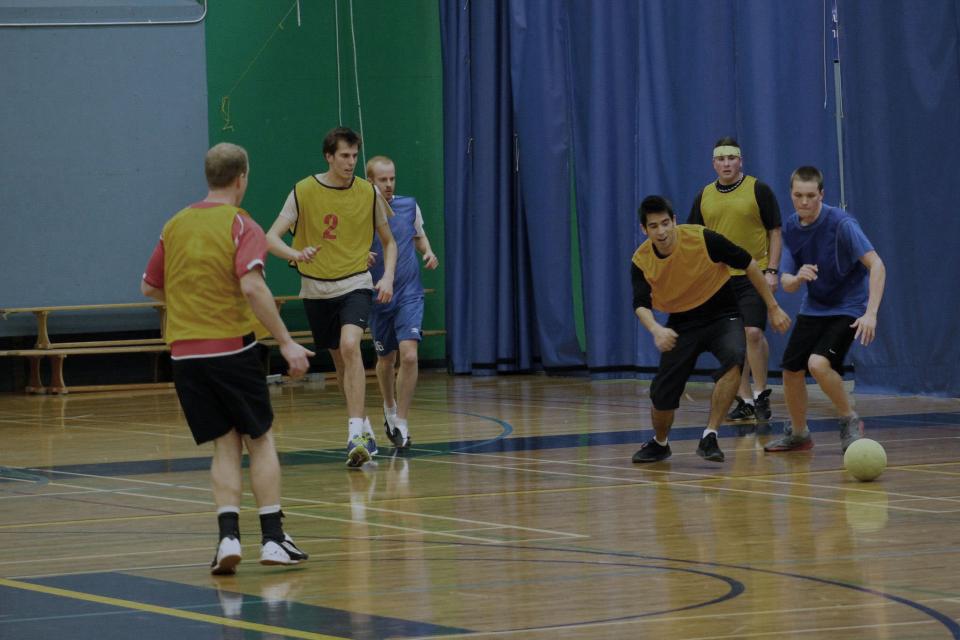 Make new friends. Register for intramurals today!
Tournaments
5-on-5 Basketball
Friday, Feb 10
5:30pm - 10:30pm
Register your team for a fun 5-on-5 basketball tournament, teams do not have to be co-ed. We will run pool play followed by the playoffs. 
Valentine's Day Dodgeball
Tuesday, Feb 14
7pm - 10:30pm
The dodgeball tournament is one of our most popular intramural tourneys each semester. This time with free pizza, music, and prizes for the winners, as well as prizes for the best dressed up team. The teams are made up of 6 players a side, co-ed (meaning there has to be 2 members of the opposite sex on the team). Hurry up with registration as there are limited spots available - don't miss out on the fun!
Co-Ed Volleyball
Friday, March 17
5:30pm - 10:30pm
Special Events
Paintball
Sunday, Feb 5
10am - 3pm
This activity is an all-day event starting at the University where we transport the group to an area near the Nanaimo River. Here the group will be supplied with camouflage gear, head protection, guns and a start-up of ammunition. The group will be split into teams and will compete in a series of competitions including capture the flag. The team will then be dropped back off at the VIU gym. This event is rain or shine and fills up fast so do not hesitate to register.
Mt Washington Trip
Friday, March 3
7am - 7pm
This is a downhill ski/snowboard trip. The trip starts at the VIU gym at 7am where we will pick you up and transport the group to Mount Washington. The trip includes a lift pass, transportation to and from VIU and a lesson if you want one. The lessons are for either beginner, intermediate or advanced skiers. The only thing that is not included on this trip is rentals. This trip is a very good deal and will fill up fast. For those people looking to meet new people and have some fun this is the trip for you.
The VIU Amazing Race
Saturday, April 1
9:30am - 6pm
This is the most exciting event at VIU without a question! Teams race around the Nanaimo area where they are required to do task cards to get their next clues. Teams are made up of 5 members at least 2 members have to be female. Transportation to all events is self-propelled or is provided. This is the 6th year running the Amazing race and we expect things to be bigger and better than last year.
Frequently Asked Questions
Opportunities are endless when you take part in the Intramural Programs/Special Events at VIU!
We truly are one of the leaders on campus supplying the needed fun and social activities for students. Let us complete your experience while you're here at VIU, all it takes is to register!