Bachelor of Tourism Management Co-operative Education
Benefits of a Co-op
Co-op combines academic study with alternate work experiences
Co-op affords students opportunities to apply academic knowledge to a work place environment
Co-ops are paid experiences, most often during the summer months
Co-ops provide students with opportunities to apply skills and gain new skills
Co-ops are a great way to explore career areas and explore different career paths
Co-ops provide students with experiences that give them a competitive edge when going out into the work force
Co-ops provide students with valuable networking opportunities that are often unavailable to other job seekers
Co-ops provide students with opportunities to influence their work place by bringing new ideas, energy and enthusiasm
Requirements and How to Apply
Entrance into the Tourism Studies Program; two (2) co-op work experiences are required for the diploma and three (3) co-op experiences are required for the degree.
More Information
Co-op Coordinator
Brook Pearce, Brook.Pearce@viu.ca
Tourism and Recreation Website
VIU Department of Recreation and Tourism
Tourism Studies Program
VIU Tourism Studies Diploma Program
Department Chair
Dr. Aggie Weighill, Aggie.Weighill@viu.ca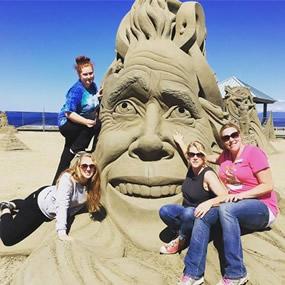 "As a Bachelor of Tourism Management student, I had the opportunity to apply my education through 3 unique tourism focused co-op work terms and as a result of my final experience I was hired.  What is really fantastic, is that as a new BTM graduate, I now serve as a Partner in Learning for a 3rd year VIU co-op student!"
Caitlin Woon, VIU Bachelor of Tourism Management Graduate