This month Thrive is collaborating with different events around campus. 
International Women's Day, Mar 08, 2023
All are welcome to celebrate with VIUFA Women's and Gender Equity Committee on March 8, from 11:30-1:30pm in the Malaspina Theatre (Bldg 310) lobby! International Women's Day is an annual event celebrated all over the world, with the first one ever being held in Denmark in 1911. The United Nations made the day a global reality in 1975, and now countries commemorate, recognize and celebrate women's and girls' social, economic, cultural, and political achievements on March 8. Come be part of VIU raising awareness of the progress made towards achieving gender equality by playing "Consent Bingo" with our Thrive team, by enjoying a dramatic reading of a play by our Inclusive Theatre Collective, and by doing fun activities with groups like the Positive Space Alliance.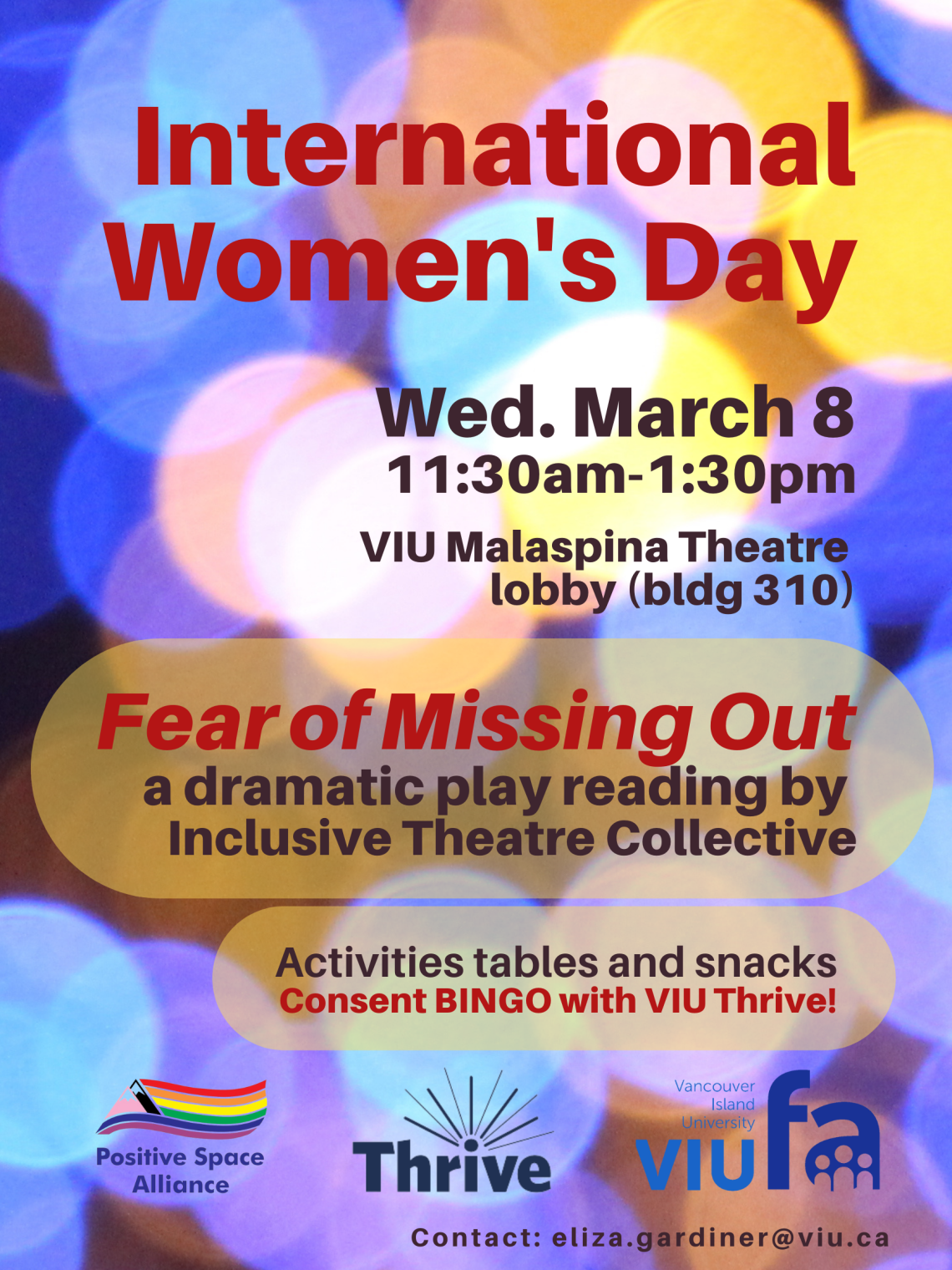 St. Patrick's Day fun day to practice Consent, Mar 17, 2023
Come join us March 17th, for fun St. Patrick's Day consent activities!
Outside the Cedar Centre from 12:00 pm - 1:30 pm, then again from 6:30 pm - 8:30 pm with lots of fun activities, snacks, and prizes!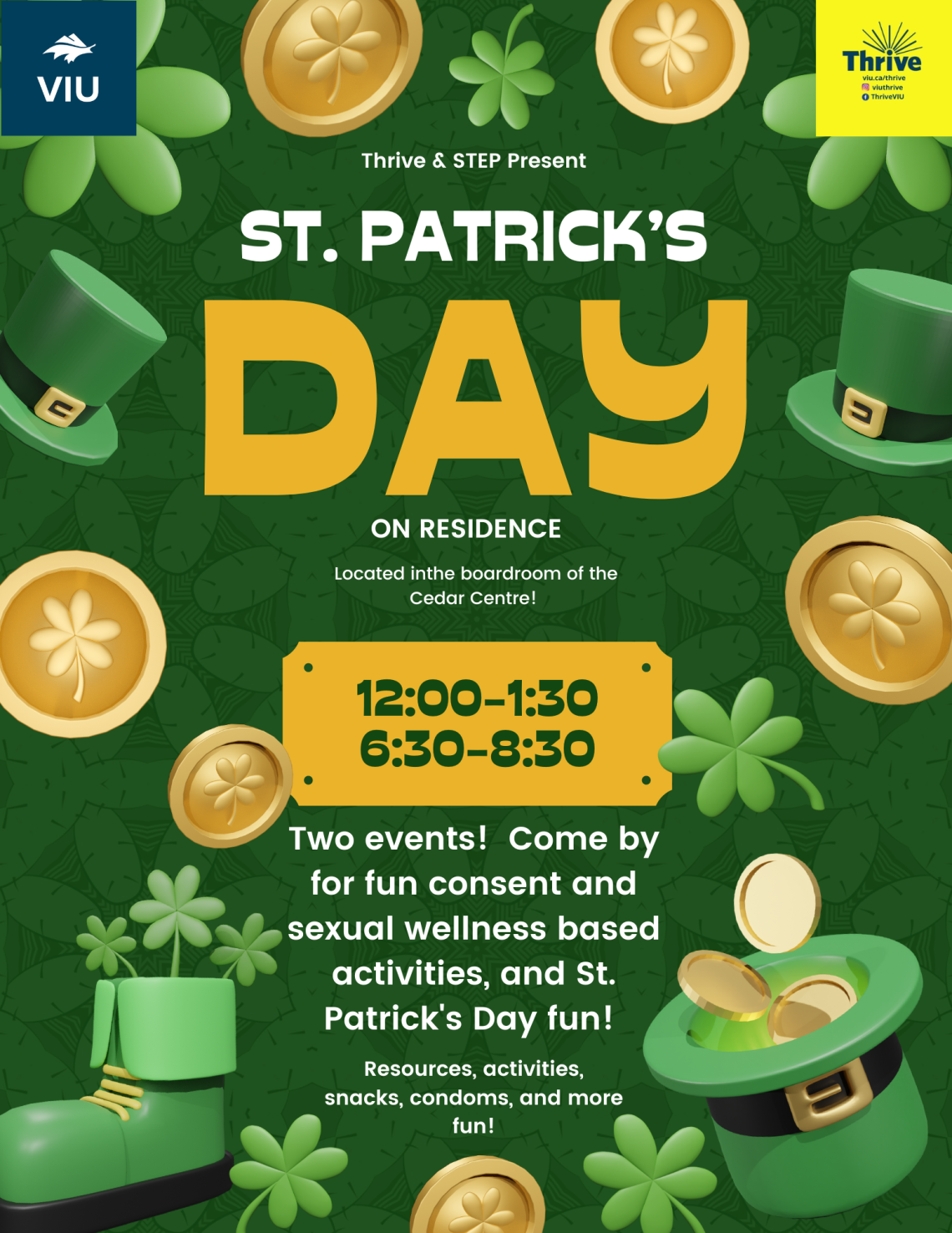 Cowichan Campus-Movies For Mental Health, Mar 17, 2023
Join us for this event on March 17, 2023, at 1:00 pm at Cowichan Campus.
Movies for Mental Health is an arts-based mental health workshop* that focuses on empowering young adults, educators, health professionals and community members to gain a better understanding of mental health within their environment.
Celebrating Nutrition Month, Instagram Campaign, March 2023
Celebrate Nutrition Month with VIU Thrive by sharing your favourite Nutrition Recipe or secret to the Instagram account @viuthrive by March 26, 2023. Participate, and you will be entered into a raffle to win great prizes. 
Celebrating Nutrition Month, Mar 30, 2023
Healthy Nutrition habits are a big part of having a healthy mind, overall wellness, and academic success. Join us on March 30 at the Upper Quad from 11:30 am - 1:30 pm to learn more about Nutrition Month and to share your best practices about meal recipes that help you thrive.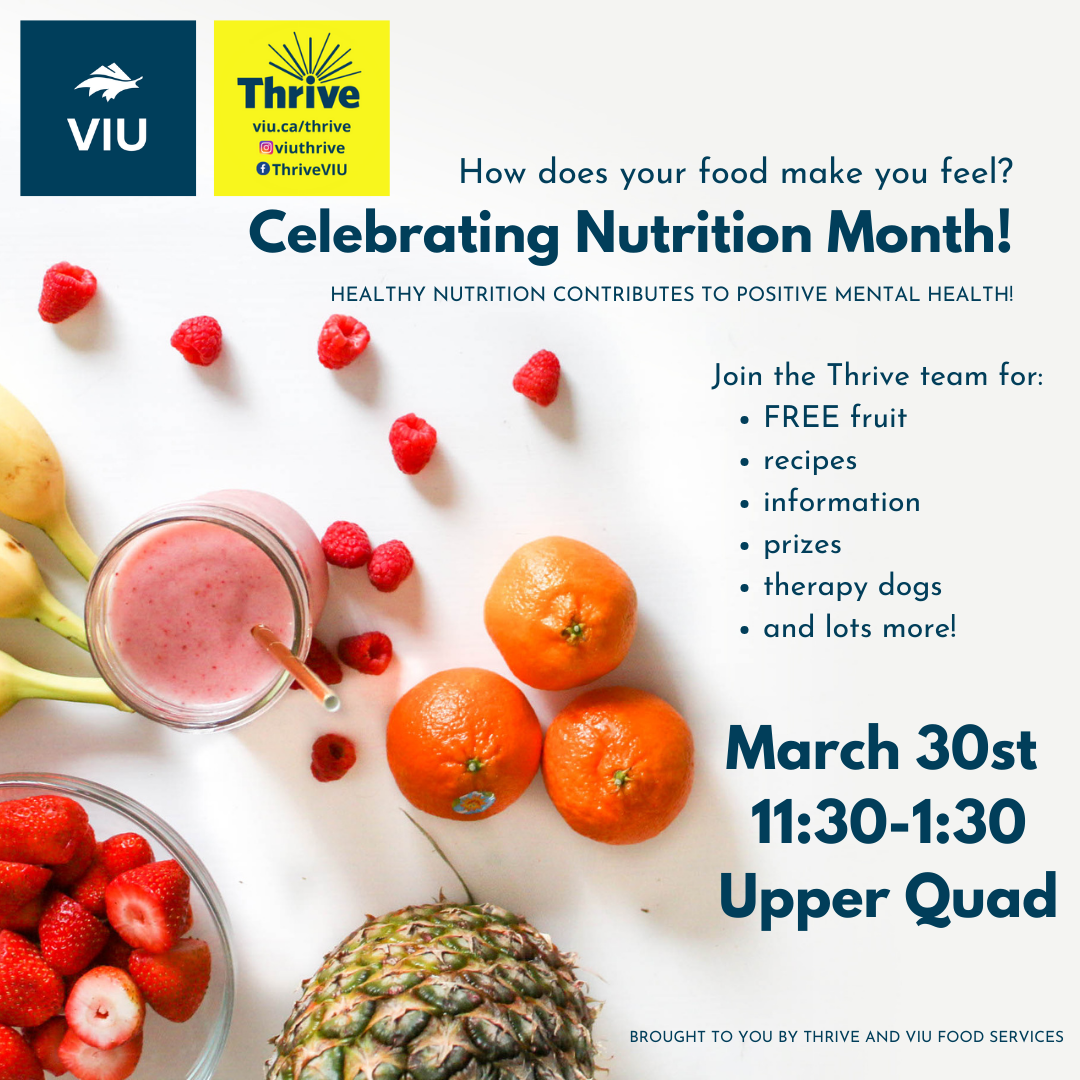 Transgender Day of Visibility, Mar 31, 2023
March 31 is Transgender Day of Visibility. The Positive Space Alliance and VIUFA Women's and Gender Equity (WAGE) committee are organizing an event to mark this important day at VIU's Nanaimo campus. Join us on March 31 in the Malaspina Theatre Lobby (Building 310) from 12:00-1:30PM for a Creative Showcase to celebrate Transgender Day of Visibility! We want to celebrate voices from the transgender and non-binary communities through the sharing of creative works about gender expression and identity that have resonated or been impactful for you!