What are Co-Curricular Record (CCR) Talks
CCR Talks are like "Ted Talks". They provide an opportunity for student leaders to showcase their reflections and involvements on campus and within the community through their developed VIU Graduate Attributes. These presentation-style sessions are also a great way for students and faculty to learn more about available engagement opportunities on campus and how these activities can be recognized through the Co-Curricular Record.
Discover graduate attributes.
The primary objective of these events is to showcase student engagement and student success at VIU while reflecting the value and benefits associated with the Co-Curricular Record. VIU's Graduate Attributes fall under three pillars: Literacies, Intellectual and Practical Skills, and Civic Engagement. Click the link below to learn more!
Seth Recalma
"I was born and raised on Vancouver Island and I am honored and privileged to call it my home. I am a Vancouver Island First Nations from the Nuu-Chah-Nulth and Qualicum bands of the northern and western areas of the Island. I am in my fourth and final year of my Bachelor of Business with a major in Marketing and am currently the Marketing Executive for the VIU Business Students Association."
CCR Talks Speaker, October 2019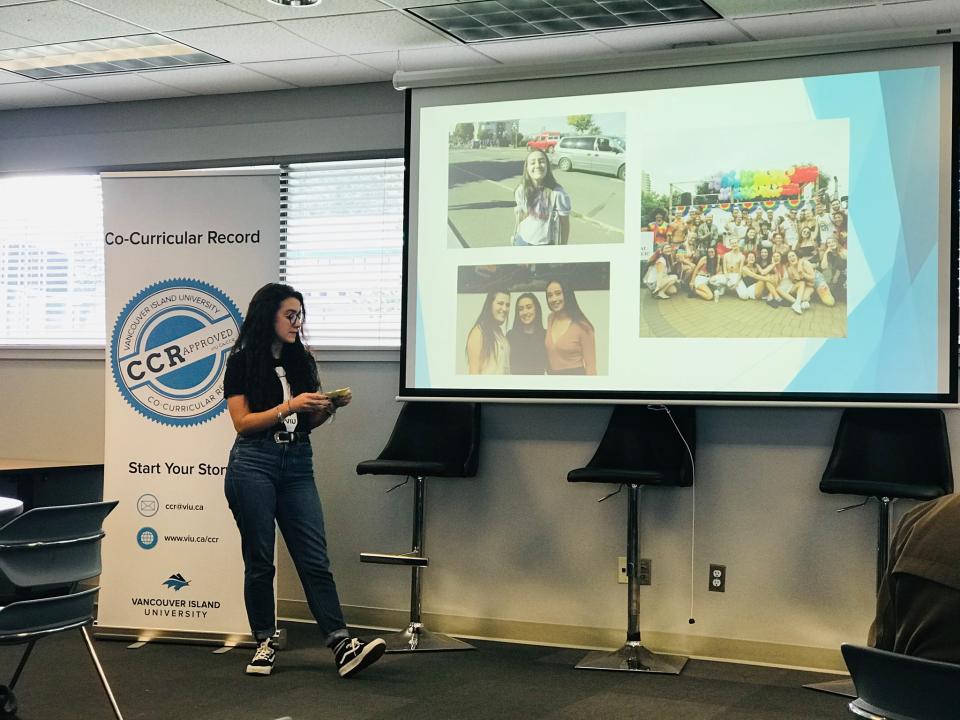 Elissa Miranda
"Hi, my name is Elissa! As a student and leader here at VIU, I have been fortunate to share my experiences as a presenter with the OCCEL's CCR Talks. As a presenter, I had the opportunity to share my story, struggles, and growth with peers and connect with others sharing theirs. CCR Talks are an excellent platform for student networking, professional development, and community growth. The respect, synergy, and positive atmosphere at every CCR Talks event keep me coming back again and again :)"
CCR Talks Speaker, March 2020
Become CCR approved.
"Co-Curricular Talks" are modelled after the Pecha Kucha style presentations with the focus of bringing together your shared experiences both personal and professional. Co-Curricular Talks, similar to a Pecha Kucha depicts the notion of concise storytelling, but rather than the average 20 slides timed for 20 seconds each, presenters are challenged to time 15 slides for 25 seconds each (5-6 minutes presentation).   
Student Leaders
Bernice Arakal
Facilitator
Bernice is an international student from the United Arab Emirates. She joined VIU in 2018 and has been working with the Office of Co-Curricular Engagement and Learning for 6 months, first as a graphic designer and now a CCR Talks Facilitator. She is currently in her fourth year studying Digital Media. She also works as a Community Leader at VIU Residence. Outside of work, you'll find her going on hikes, drawing or out with her friends. She loves meeting new people and hearing their stories. She is super excited to be a part of CCR Talks this year and can't wait to connect with you all!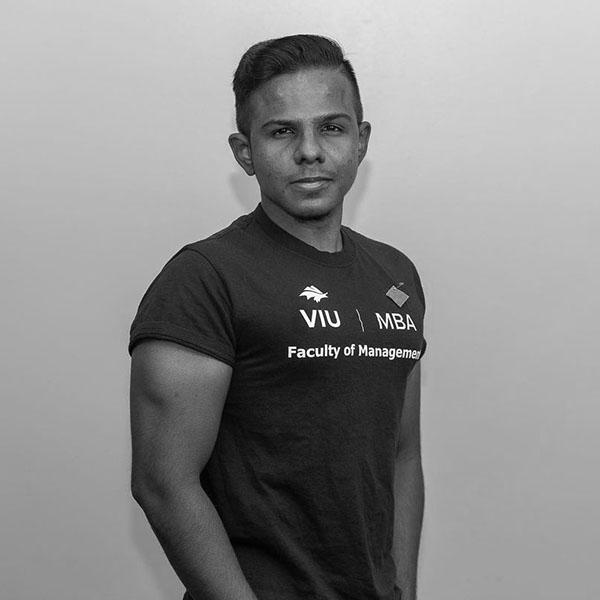 Antony Prem
Facilitator
Tony joined VIU's community engagement team in 2021, overseeing relationships between employers and students. He is an MBA student with an interest in marketing and public relations. Tony has extensive experience in Client relationship management with clients in the UK, North America, and Australia. He has led teams that create and curate customer focussed products and communication strategies. Tony is also passionate about the work VIU does with our charity partners and strives to deliver the highest standard of service. He was recently involved with the Greater Nanaimo Chamber of Commerce for hosting a mini-golf tournament that helped generate donations for a local scholarship fund for students. Away from work, Tony has a keen interest in politics and aspires to run for public office, one day. You'll often find him engaging with large crowds in political rallies or hosting political debates on campus.