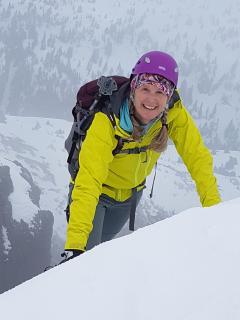 Hello! and welcome to our website and staff introductions. I am Denise and I have been in the field of special education, which I prefer to refer to as neurodiversity, for over 35 years. I have worked with children from preschool age through to elderly folks in institutional settings, schools and now at the university level. I love meeting and supporting people to fulfil their dreams of accessing post-secondary education in a way that meets their needs. My philosophy is strength based and I thrive on positive based psychology. I hope to be able to provide people with skills and strategies to support their learning and create more independence in preparation for the workplace. 
I am a true Vancouver Islander, born and raised here. My life would not be complete without the outdoor activities of mountaineering, rock climbing, skiing and mountain biking. I love to spend time in our beautiful green forests or down at the beach exploring sea life. Many of these trips inspire artistic outcomes in my spare time. 
I look forward to meeting you and hearing about your hopes, dreams and future goals. Together we can create a plan to use your strengths to work toward these, gain more skills and be sure that post-secondary is accessible to you. 
Cheers!
Photo credit: Clark Gourlay (Mt. Arrowsmith, Lost Gulley)