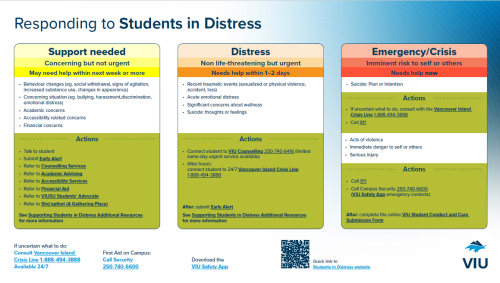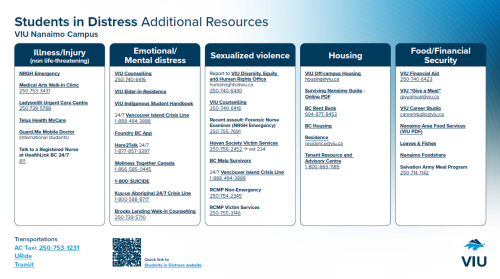 Cowichan and tiwšɛmawtxʷ Campus versions coming soon 
Upcoming Workshops
For information on upcoming SafeTalk Workshops, ASIST Training Workshops, and Psychological First Aid Training, please see the Thrive Calendar.  
Students in Distress Workshop
The Students in Distress workshop is an interactive session designed to assist faculty and staff in using the new triage and referral tool.  Attendees will work through realistic scenarios and determine the best mechanisms for referral and support for students experiencing distress.  

We encourage you to invite us to attend one of your regular departmental or Faculty meetings to engage in this 1.5-2 hour workshop. Would you like to request a 'Students in Distress' workshop? Please email HWCconfirm@viu.ca.
Early Alert
If you are concerned about a student's academics or personal well-being, please fill out as much information as possible on the Early Alert form. Your submission will be triaged by Student Affairs and shared with the appropriate area for follow-up. Services include, but are not limited to, Counselling Services, Academic Advising, Accessibility Services, Financial Aid and Awards, and the Conduct and Care Office. If this is an emergency do not use this form but call 911 or Campus Security at 250.740.6600.
Feedback
Do you have feedback about how to enhance these resources for the VIU Community? Please email StudentAffairsAdmin@viu.ca.
---
Additional Resources
In case of emergency or crisis situation (imminent concern for harm to self or others) please call 911 and/or VIU Security at 250.740.6600 and/or consult with the Vancouver Island Crisis Line at 1.888.494.3888. 
For non-emergency consultation or connection, VIU Counselling services can be contacted during business hours (8am-4pm, Monday to Friday).  To connect with VIU Counselling services call 250-740-6416 or visit the Health and Wellness Centre in B200, 3rd floor (limited same day service available).  All BC post-secondary students also have access to the free and confidential counselling and community referral services 24/7 Here2Talk - available via app, phone and web.  
After hours, or any time, consult with the Vancouver Island Crisis Line at 1.888.494.3888.