COVID-19 Fall 2021 update 
Nanaimo Campus: In-Person and Remote Testing 
In person Accuplacer (Grade 12 English Equivalency) has resumed. The remote option is still available for an extra fee. Email us at assessments@viu.ca with subject line 'In Person' or 'Remote' Accuplacer for more information.  Please let us know if your Accuplacer test is for the Health Care Aide (HCA-PP) admissions requirements when you apply.
In person Keyboarding has resumed for both VIU applicants and external candidates. Remote keyboarding via zoom is still available for an extra fee. Please email us at assessments@viu.ca with subject line 'In Person' or 'Remote' Keyboarding for more information. 
External Exams: Our centre is reopening for limited in-person exam invigilation for our external clients. We continue to offer remote invigilation via Zoom for external exam institutions that permit this. Please contact us directly at Assessments@viu.ca for more information about scheduling in-person or remote exams.
VIU Trades : Self-assessments will continue for Trades programs for Fall 2021. Please contact registration@viu.ca for more information.
Accommodated Exams: We are able to support all VIU accommodated exams in person. Please use our online booking system to request your invigilation.
Cowichan Campus: In Person Testing
For more information about scheduling in-person Accuplacer, Keyboarding or ABE tests at the Cowichan Campus, email AssessmentsCowichan@viu.ca.
Accommodated Exams at VIU
Are you a current or prospective VIU student with a documented disability? 
Have you registered with VIU Accessibility Services and have a current accommodation letter?
Our team can help support your exam accommodations.
Note: VIU Accuplacer applicants with exam accommodations, please email us directly at assessments@viu.ca before booking your test.
Check out the Universal Access at VIU web page for accessibility maps and building information.
Learn more about accommodated exams at VIU
Our Mission
VIU's Assessment Services supports student success and commits to best practice standards for assessments.
We bring this vision into reality by providing a technologically advanced, secure, and welcoming testing environment that supports test taker success and opens pathways to academic and career opportunities.
Assessment Services values high standards of customer service, exam security, collaborative relationships, and revenue generation and data collection that positively impacts student success.
The stakes of all of the exams we administer are significant, including midterm and final subject exams, graduate or professional school admissions tests, professional certification and licensure tests, and job selection tests.
We ensure the standards surrounding exam security and administration are fairly and consistently upheld.
The various foundation skills assessments results we generate and interpret are a reliable method to support placing a student in a program or course to ensure they are likely to meet with success.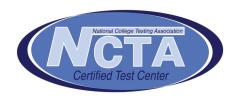 Vancouver Island University Assessment Services was the first testing centre in Canada to be certified by the National College Testing Association (NCTA).
We subscribe to the Professional Standards and Guidelines for Post-Secondary Test Centres.
* Rates are inclusive of GST - VIU's GST# 107657678RT0001