COVID-19 update (June 2021)
In response to the COVID-19 pandemic, VIU's exam centres canceled all in-person exams and assessments between March 2020 and June 30th 2021.
All External Exams (Summer 2021)
We are able to support external exam invigilation requests via Zoom, provided that the exam institution has permitted this.
For more information about Zoom proctoring for external exams, please email assessments@viu.ca.
With the easing of COVID-19 related restrictions, we are working toward a full reopening of our centres over the next several months.  We will update this space as we are able to confirm our reopening plan timeline.
Phase 1 (July/August 2021)
Nanaimo campus: VIU Accommodated Exams for Intersession 
Starting July 1st 2021, we are very happy to let you know that we are initiating a 'soft' re-opening of our centre, offering the option of in-person exam invigilation for VIU students with exam accommodations whose classes are having in-person exams*.
*Note: We have very limited space due to COVID-19 restrictions, so we are not yet able to offer in-person invigilation to students whose VIU exams are offered remotely (i.e. VIU Learn).
All in-person accommodated exam invigilation is by appointment only.
Please make your request at least one week in advance through our online booking system or email us at accommodatedexams@viu.ca. 
Nanaimo Campus: In-Person Testing 
Limited in person Accuplacer resumes August 24. Please email us at assessments@viu.ca with subject line 'In Person Accuplacer' for more information.
Session 1: August 24 at 9am (maximum 8)
Session 2: September 2 at 1pm (maximum 8)
Limited in person Keyboarding resumes August 25 for both VIU applicants and external candidates. Please email us at assessments@viu.ca with subject line 'In Person Keyboarding' for more information.
Session 1: August 25 at 1pm (maximum 8)
Session 2: September 1 at 1pm (maximum 8)
Cowichan Campus
In-person ABE testing starts August 24.
In-person Accuplacer testing starts August 26.
Phase 2 (Fall 2021)
Nanaimo Campus
Cowichan Campus
In person external exam invigilation to start week of September 13.
Accommodated Exams at VIU
Are you a current or prospective VIU student with a documented disability? 
Have you registered with VIU Accessibility Services and have a current accommodation letter?
Our team can help support your exam accommodations.
Note: VIU Accuplacer applicants with exam accommodations, please email us directly at assessments@viu.ca before booking your test.
Learn more about accommodated exams at VIU
Our Mission
VIU's Assessment Services supports student success and commits to best practice standards for assessments.
We bring this vision into reality by providing a technologically advanced, secure, and welcoming testing environment that supports test taker success and opens pathways to academic and career opportunities.
Assessment Services values high standards of customer service, exam security, collaborative relationships, and revenue generation and data collection that positively impacts student success.
The stakes of all of the exams we administer are significant, including midterm and final subject exams, graduate or professional school admissions tests, professional certification and licensure tests, and job selection tests.
We ensure the standards surrounding exam security and administration are fairly and consistently upheld.
The various foundation skills assessments results we generate and interpret are a reliable method to support placing a student in a program or course to ensure they are likely to meet with success.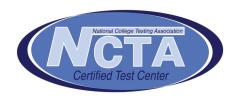 Vancouver Island University Assessment Services was the first testing centre in Canada to be certified by the National College Testing Association (NCTA).
We subscribe to the Professional Standards and Guidelines for Post-Secondary Test Centres.
* Rates are inclusive of GST - VIU's GST# 107657678RT0001