Print Services offers both black and white and color printing for art and design portfolios and projects, as well as bound reports for special classes.

Print Services provides printing for the University's Custom Courseware, required reading materials and other VIU Campus Store  materials. 
We coordinate printing and finishing for course materials, handouts, course outlines, student guides and other educational materials to enhance your learner and teaching experience.
Your prepared course materials can be archived for future printing/reordering.
If you have any inquiries or want to use Custom Courseware in your class, contact the Special Order/Courseware Buyer:
Janice Speed
Phone: 250-740-6205 Ext. 6205
Email: Janice.Speed@viu.ca
Campus Store, Building 305, Room 220. Mail drop 305-1
We have a variety of paper stocks to choose from for your cards. Envelopes can be ordered in a variety of sizes to fit, and we can also print your return address on them.
Business cards
Holiday greeting cards
Invitations
Thank you cards
Brochures
Postcards
Bring in 13 images (one for each month and a cover image) and have us make you your own custom calendar. 
Saddle Stitch Calendar
Coil Calendar
Top Coil Calendar (11×17)
Print Services offers fast and affordable large format printing for all types of uses:
Signage
Posters
Artist prints
Trade show displays
Banners and banner stands
Sandwich boards
We have several types wide format media to print on, such as: Satin Matte Paper, Glossy Photo Paper, and Canvas.
Stickers are a simple and fun way to relay a message. Get custom labels and stickers printed full-colour using your choice of professional-grade materials from Print Services. Stickers can be printed on uncoated, high-gloss or vinyl. Use uncoated for writable and printable sticker sheets and labels and vinyl for more durable applications.
Carbonless forms are often referred to as No Carbon Required (NCR) paper and are available in 2-part forms (white, yellow) or 3-part forms (white, yellow, pink). This type of form paper is coated to allow for the transfer of written or typed data to additional pages.
Print high quality photos and artwork on framed canvas for a high-end look. Our experienced team will ensure your prints are produced professionally for the best results. Feature canvas prints in your next wall art project at home or in the office. Embrace your inner art gallery curator and order your canvas print today!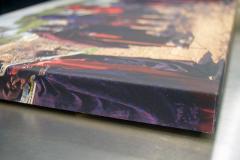 Coil Binding - coil binding is ideal for holding together course packs, notes, reports, thesis and other documents that may be used frequently. Documents bound with a coil can open flat on a desk or table and offer 360 degree rotation for easy note taking.
Saddle Stitching - Saddle stitching is a type of binding method which stitches pages together with a metal wire. Although there are many parts to the saddle-stitch binding process, it is a popular finishing method for booklets, catalogs and magazines due to its economic design.
Cerlox Binding - Cerlox binding (sometimes referred to as comb binding) is a cost-effective binding that allows the book to lie flat on the counter (great for cookbooks) or on your lap. Cerlox binding is ideal for books that you need to add or remove pages from easily.
Additional bindery services include:
Fast back (thermal) binding
Padding
Stapling
Hole Punching and Drilling - we provide paper and cardstock drilling for any professional printing project large or small. Print Services has the ability to punch one, two, or three holes per piece of paper with the capabilities to position and size more than three-hole punches if needed. We also have industry-leading equipment to drill holes through large stacks of paper quickly while processing your order.
Cutting and Trimming - our mechanical paper cutter can cut up to 200 sheets of paper per cut and can trim anything down to a specific size according to your desired dimensions.
Laminating - laminating turns paper into durable, reusable documents that stand up to daily use and is an inexpensive way to protect maps, posters, charts and technical drawings. Print Services can laminate almost any type of paper up to 26.5" wide, whether printed here or not.
Folding - our folding services allow you to receive completely finished printed materials. Folding services are commonly used for brochures and pamphlets and can be folded per your request.
Scoring - the scoring process creates a channel in your printed piece where the designated fold will lie. This process makes for a cleaner fold preventing cracking along the folded edge.
Collating - the collating process efficiently assembles your printed materials in their correct sequence thus producing an absolute finished product. Collating is commonly performed when printing manuals, catalogs or any other product involving multiple pages.
Shrink Wrapping - shrink wrap protects your finished products against damage while sorting your product in your desired bundles for easy distribution. 
Additional finishing services include:

Print Services can scan documents and artwork for print or digital use and offers large and small format scanning – up to 36″ wide.
*When printing and scanning portions of books or other printed material, please be aware that Print Services is a Fair Use print shop and will only scan one chapter or ten percent of the content, whichever amounts to fewer pages. For more guidelines on printing and scanning, please visit VIU's copyright and compliance section.